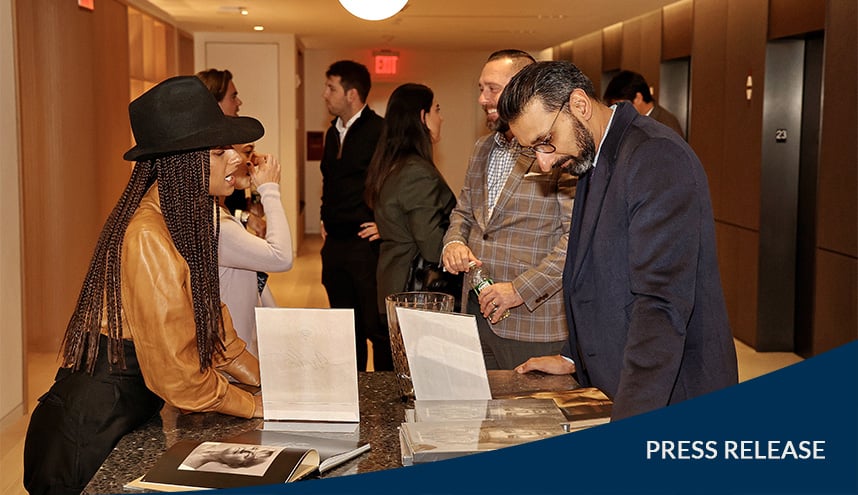 Produced by DK Johnston co curated by Nicole Ianniello the Delphine Diallo solo exhibition, film, and reception for the artist will be held in the Class A, 650,000+ sq ft midtown office tower
New York (November 17, 2022) — As part of its makeover, BentallGreenOak introduces a cultural program at 685 Third Avenue, with its second solo show in New York City by artist Delphine Diallo in Q2 2023. The program will include screenings, installations, and artist receptions for those showcasing their work at 685 Third Avenue.
The architectural company MdeAS has redesigned the lobby at 685 Third Avenue in Manhattan, New York, and as part of the new experience, BentallGreenOak has funded a cultural program for the benefit of the building's tenants, neighbors, and visitors.
The second exhibition to be featured in the ongoing program will be by artist Delphine Diallo curated by Nicole Ianniello and produced by DK Johnston titled Just Move. This cultural program produced by DK Johnston at 685 Third will launch with a series of solo shows by six artists, each of whom uses a distinctive media and takes a fresh approach to engage with their audiences.
Visual artist and photographer Delphine Diallo is French and Senegalese and lives and works between Brooklyn and Paris. After earning her degree from the Académie Charpentier School of Visual Art in Paris in 1999, she spent seven years working as a special effect motion artist, video editor, and graphic designer in the music business. She left her position as a cooperative Art Director in Paris in 2008 and relocated to New York to pursue her own career. Peter Beard, a well-known photographer, and artist offered to work with Diallo on the Pirelli calendar picture shoot in Botswana after being charmed by her spontaneity and ingenuity.
Now with over a decade of experience in digital photography, she has shot for major clients that include the New York Times, L'Oreal, Esquire, The New Yorker, Nike, Time inc, The Smithsonian Magazine. Publications such as Vogue Portugal, The Washington Post, Artsy, Vice, and many more.
Any place she can, Diallo joins imaginativeness with activism, pushing the numerous conceivable outcomes of empowering women, youth, and social minorities through visual incitement. Diallo utilizes simple, advanced digital photography and collages as she keeps on investigating new mediums. She strives to change the narrative of women as subjects in photography.
Exhibition
BentallGreenOak is pleased to announce its second solo exhibition titled Just Move by Delphine Diallo. Titled after the artist's meditation practice, a preamble to the act of making, made routine; these artist as subject, documentary works capture the soul and essence of the divine spirit in female anatomy, constituting a photographic continuation of the artist's exploration of woman as subject. Just Move presents a collection of innovative portraiture accompanied by candid moments documented during her travels. Empowerment, rebirth, nature as beauty form a thematic foundation to Diallo's mixed media photo compositions, enlightening one another in dialogue of layered nuance.
Diallo is recognized for her compelling work employing visual language that is both powerful and subtle, nuanced, and emotive. Her art investigates and reimagines pre-existing cultural romance narration illuminating the delicate and vulnerable essence of our shared humanity. Compositions particularly her mixed media collage works are engineered to communicate a narrative around the image adding additional fields of reference. When analyzing beauty in her photography gaze is realigned, shifted from preconceived function so powerfully employed by a structure willfully embracing of censor.
"My intention is to change the gaze in photography, create a new narrative to empower black women, and create experiences for consciousness to expand."
Opening mid 2023, the exhibition will be on view 2 months, in the lobby of 685 Third Avenue. This will be the artist's second solo exhibition with the curators Nicole Ianniello and Dk Johnston.
Film
Aside from Diallo's solo exhibition at 685 Third Avenue will be a short visual and narrative film that showcases her work on location in Paris and New York. The artist prepares herself for her collage process through Tai Chi, a martial art practice described as meditation in motion. It promotes serenity through gentle movements — connecting the mind and body. This exercise prepares her mentally and physically to get deep into the souls of her works. Throughout the film, her voice goes in and out as she explains her preparation for her collage craft.
The film will pan from her performing this movement in an exquisite sculptural garden in Paris to shots of her collaging in her studio there. New York will display Delphine Diallo working at of 685 Third avenue to her home sanctuary in Brooklyn, as well as including shots of her in a nearby park near her home practicing her mediation. The entire film is about movement and will also unite visual snippets of block parties in Brooklyn where people are open-air dancing and infusing the neighborhood's urban bustle with a cheerful carnival spirit. This energy essence is felt throughout Diallo's physical works, which will be displayed alongside the visual exhibition.
About BentallGreenOak
BentallGreenOak is a leading, global real estate investment management advisor and a globally-recognized provider of real estate services. BentallGreenOak serves the interests of more than 750 institutional clients with approximately $80 billion USD of assets under management (as of September 30, 2022) and expertise in the asset management of office, industrial, multi-residential, retail and hospitality property across the globe. BentallGreenOak has offices in 28 cities across fourteen countries with deep, local knowledge, experience, and extensive networks in the regions where we invest in and manage real estate assets on behalf of our clients in primary, secondary and co-investment markets. BentallGreenOak is a part of SLC Management, which is the alternatives asset management business of Sun Life.
The assets under management shown above includes real estate equity and mortgage investments managed by the BentallGreenOak group of companies and their affiliates, and as of 1Q21, includes certain uncalled capital commitments for discretionary capital until they are legally expired and excludes certain uncalled capital commitments where the investor has complete discretion over investment.
For more information, please visit www.bentallgreenoak.com
Media Contacts
Rahim Ladha
Global Head of Communications, BentallGreenOak
media@bentallgreenoak.com