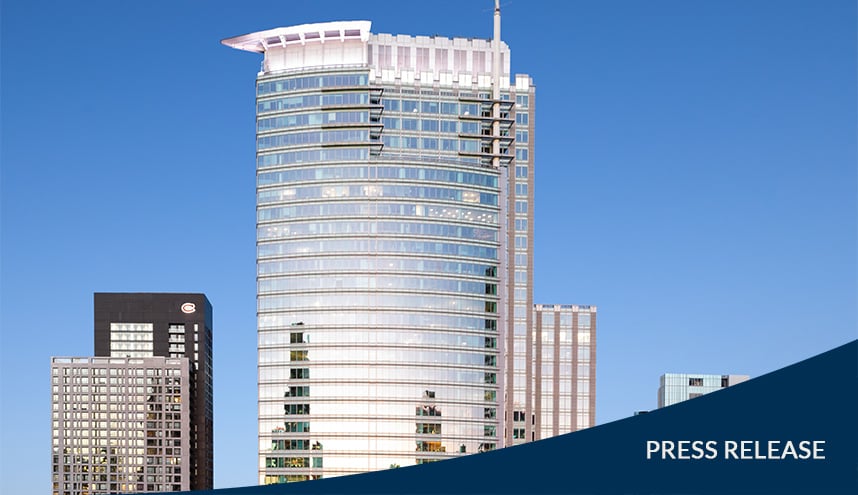 Montreal (December 12, 2022) — BentallGreenOak (BGO) today announced that it has achieved the first perfect score in WiredScore's history for a Platinum certified property in Canada, demonstrating an exceptional level of digital leadership and connectivity. 1250, boulevard René-Lévesque in Montreal, QC, is a class AAA, 1,000,000+ sq. ft. flagship office building owned jointly between Sun Life Assurance Company of Canada and BGO's core, open-ended strategy in Canada, that adds to its class-leading accolades in ESG (BOMA BEST Platinum and LEED Gold certified), and health and wellness (Fitwel Viral Response Module), with this latest achievement in digital connectivity.
For the first time in Canada, 1250, boulevard René-Lévesque achieved perfect scores in each of the 4 areas of WiredScore's scorecard: Connectivity, Infrastructure, Readiness, and Innovation. The perfect 100/100 score places the property into elite standing alongside only 20 other buildings worldwide that have achieved the same mark.
"In a world in which virtually every aspect of our working lives consumes or transmits data, it is important that BentallGreenOak-managed office properties demonstrate exceptional performance in connectivity and digital capability for our tenants," said Yves-André Godon, Managing Director, Quebec and Ottawa, BentallGreenOak. "The world class community of tenants at 1250, boulevard René-Lévesque look to the property as a place that can enable their business growth objectives through the safe and reliable digital infrastructure that we invest in on behalf of our clients to help deliver exceptional results. WiredScore's perfect scoring in the Platinum Certification of 1250, boulevard René-Lévesque is a validation of the best-in-class advantages that we strive to deliver for all who work in and visit the property."
Mike St. Cyr, Head of Canadian Markets for WiredScore Canada, commented: "First-class digital connectivity is no longer a nice-to-have, it's fundamental in a world where technology is part and parcel of our daily lives. This certification is therefore a notable achievement for our client, and we are excited to see what 1250, boulevard René-Lévesque will deliver for the community which interacts with it each and every day."
About BentallGreenOak
BentallGreenOak is a leading, global real estate investment management advisor and a globally-recognized provider of real estate services. BentallGreenOak serves the interests of more than 750 institutional clients with approximately $80 billion USD of assets under management (as of September 30, 2022) and expertise in the asset management of office, industrial, multi-residential, retail and hospitality property across the globe. BentallGreenOak has offices in 28 cities across 14 countries with deep, local knowledge, experience, and extensive networks in the regions where we invest in and manage real estate assets on behalf of our clients in primary, secondary and co-investment markets. BentallGreenOak is a part of SLC Management, which is the alternatives asset management business of Sun Life.
The assets under management shown above includes real estate equity and mortgage investments managed by the BentallGreenOak group of companies and their affiliates, and as of 1Q21, includes certain uncalled capital commitments for discretionary capital until they are legally expired and excludes certain uncalled capital commitments where the investor has complete discretion over investment.
For more information, please visit www.bentallgreenoak.com
About WiredScore
WiredScore is the organization behind the WiredScore and SmartScore certifications: the internationally recognized digital connectivity and smart building rating systems for real estate, helping landlords design as well as promote buildings with powerful digital connectivity and smart capabilities. WiredScore was founded in New York City in 2013 by leaders within real estate, tech and telecommunications, with endorsement from Mayor Bloomberg, to improve NYC's tech infrastructure, and support entrepreneurs who are driving technological advances and creating jobs. Following success in the US, WiredScore expanded internationally from 2015, initially in the UK and then to France, Ireland, Germany, and Canada. Since then, over 800M square feet of commercial and residential space has been certified, impacting 8M people across 27 countries. For more information on WiredScore, SmartScore or to find certified buildings, please visit: www.wiredscore.com
Media Contacts
Rahim Ladha
Global Head of Communications, BentallGreenOak
media@bentallgreenoak.com
Mike St. Cyr
Head of Canadian Markets, WiredScore
mike@wiredscore.com