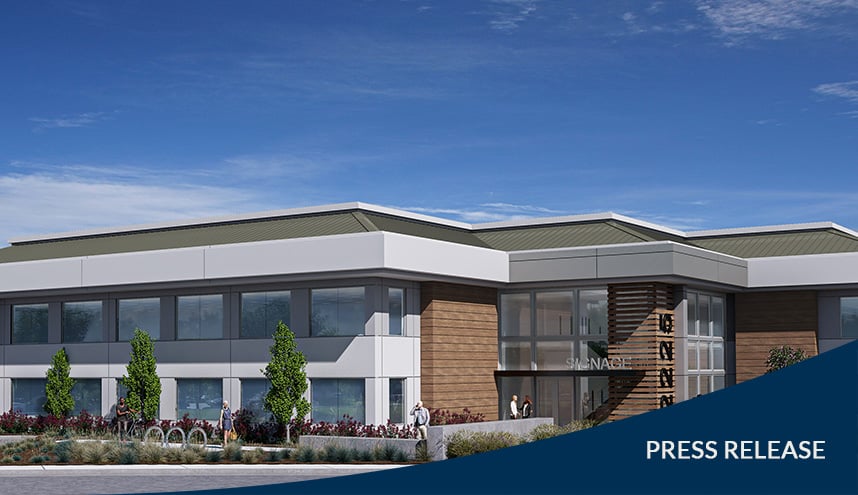 The City of Palo Alto has granted permit approval for this life science development at 2225 East Bayshore Road
Palo Alto, (March 2, 2023) — BentallGreenOak (BGO) and Gray Matter by Graymark Capital have begun construction on a two-story, 36,000-square-foot life science development at 2225 East Bayshore Road in Palo Alto, California, which represents the first of a three-phase development to convert former office and R&D buildings into lab space. This first phase will convert an existing office building into market-ready lab spaces across two floors with upgraded electrical capacity, new once-thru mechanical systems, new office space, amenities, and dedicated parking.
The 100,000-square-foot Bayshore Bio life sciences campus was initially acquired by BGO and Gray Matter in June of 2021. The three former office and R&D buildings are being converted into modern lab space with a 60/40 lab-to-office ratio for biological research and development. The spaces are designed for early-stage VC-backed life science companies, including Stealth, Series A and Series B.
"The life sciences market, especially in the Bay Area, has operated under a 'build-it-and-they'll-come' mentality over the last five years, given the accelerated growth of life sciences in the region," said Nick Cassaro, Vice President, BentallGreenOak. "However, today there is demand for more bespoke and advanced therapy-enabled lab space to meet the needs of new modalities such as cell-and-gene therapy and mRNA research. As technology is allowing for people to do more with limited space, the Bay Area's technology expertise and booming market puts it in a unique position to meet this changing demand, making Palo Alto an ideal market for this new development."
"Palo Alto is at the center of life science research in the Bay Area. We have designed our space to support the growth of companies from the nearby Stanford and VC-backed ecosystems," said Rick Lafranchi, principal at Graymark Capital. "Our best-in-class space designed by Arctec and currently in construction with Dome Construction is an ideal landing spot for early-stage biotechnology companies needing modern biological R&D lab space."
The first phase of the development at 2225 East Bayshore Road is expected to be completed and ready for occupancy by the end of Q3 2023. The project will incorporate indoor/outdoor amenity spaces within the private courtyard and on each floor for collaboration and out of lab spaces. The single-story R&D buildings at 2197 Bayshore Road and 1050 East Meadow Circle will be the second and third phases of Bayshore Bio.
This latest Palo Alto development represents a continuation of the established partnership between BGO and Gray Matter, which has produced life sciences properties in both California and Texas. Partnerships like this are key to BGO's strategy as it looks to grow its 3 million square-foot life sciences portfolio by providing high-quality solutions for early-stage companies along with the scale to partner with multinational users to meet their global demands.
About BentallGreenOak
BentallGreenOak is a leading, global real estate investment management advisor and a globally-recognized provider of real estate services. BentallGreenOak serves the interests of more than 750 institutional clients with approximately $83 billion USD of assets under management (as of December 31, 2022) and expertise in the asset management of office, industrial, multi-residential, retail and hospitality property across the globe. BentallGreenOak has offices in 28 cities across fourteen countries with deep, local knowledge, experience, and extensive networks in the regions where we invest in and manage real estate assets on behalf of our clients in primary, secondary and co-investment markets. BentallGreenOak is a part of SLC Management, which is the alternatives asset management business of Sun Life.
The assets under management shown above includes real estate equity and mortgage investments managed by the BentallGreenOak group of companies and their affiliates, and as of 1Q21, includes certain uncalled capital commitments for discretionary capital until they are legally expired and excludes certain uncalled capital commitments where the investor has complete discretion over investment.
For more information, please visit www.bentallgreenoak.com
About Graymark Capital
Graymark Capital, Inc. is a real estate investment firm headquartered in San Francisco, California that invests in commercial property throughout the Western U.S. The company has acquired 3.5 Million square feet of institutional quality buildings valued at $7 Billion since 2012. Through its life science initiative, Gray Matter, Graymark has purchased twelve life science assets in the San Francisco Bay Area, San Diego, and Austin totaling over 1.5 million square feet. The tenants in the portfolio range from Fortune 500 companies to early stage growth companies.
For more information, please visit www.graymarkcapital.com/
Media Contacts
Rahim Ladha
Global Head of Communications, BentallGreenOak
media@bentallgreenoak.com