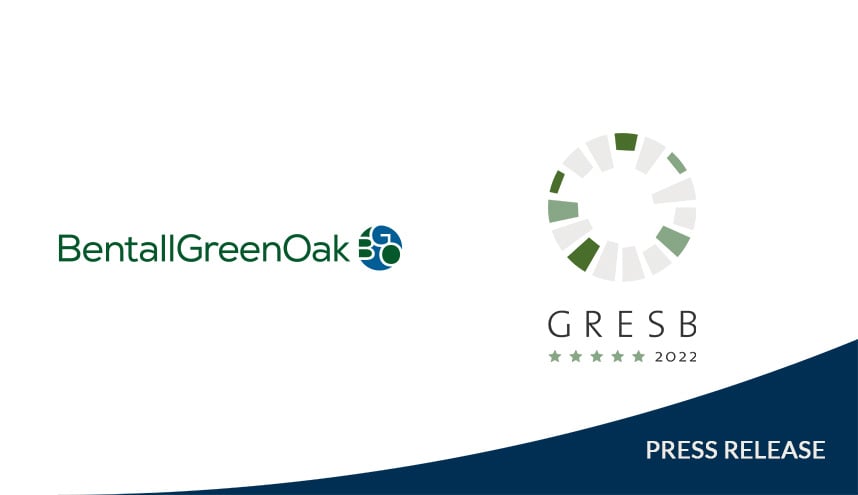 New York & Toronto & London & Tokyo (November 24, 2022) — BentallGreenOak (BGO) announced today that for the 12th consecutive year its global real estate investment platform has achieved top performance in the annual GRESB Real Estate Assessment for excellence and industry leadership in ESG1. Three of BGO's flagship investment strategies, already amongst the best performing funds in their global categories, achieved five-star ratings, indicating industry leadership and performance in the top 20% of the global benchmark. Two funds achieved four-star ratings, scoring above both their peer group and the global benchmark average.
Highlights from BentallGreenOak's 2022 GRESB scores:
All BGO funds scored 100% on social and governance indicators, and above global and peer group averages on environmental indicators.
WELPUT, Prime Canadian Property Fund and the Sun Life General Account received 5 Stars.
Prime Canadian Property Fund was recognized as Regional Sector Leader in the Development Benchmark in their peer group.
"The real estate industry continues to raise the bar on ESG performance and, in this setting, BGO's strategies are striving for even greater performance by setting new standards for excellence in sustainable investing. These new horizons are driving teams from across our businesses and regions to deliver outcomes for our investors that deliver on our commitments and demonstrate the inextricable link between responsible investing and investment performance," said Ailey Roberts, Vice President of Sustainable Investing, BentallGreenOak.
"GRESB's work over the last 13 years has been instrumental in setting industry standards to rally the commercial real estate industry around ESG priorities to address climate change, reduce our environmental footprint, and focus on social improvement for the communities where we live and work," said Sonny Kalsi, Co-CEO, BentallGreenOak. We are pleased to be recognized as a leading part of this growing movement as an affirmation of our long-standing intention to position our global strategies with strength and resilience to meet the challenges and opportunities of climate change head on."
The 2022 real estate benchmark saw the largest ever growth in total numbers, with 1,820 property companies, real estate investment trusts, funds, and developers now participating worldwide, covering USD 6.9 trillion of GAV across 74 countries. GRESB data is used by 170 institutional and financial investors with more than USD 51 trillion in AUM.
1 Based on GRESB results released October 2022 that cover the 2021 calendar year. BentallGreenOak paid a per fund submission fee, per year. The Real Estate GRESB Rating is an overall measure of how well ESG issues are integrated into the management and practices of companies and funds. More information about the GRESB Real Estate Assessment is available here. BentallGreenOak has submitted to the GRESB Real Estate Assessment at the fund level since 2010, operating as Bentall Kennedy until 2019. Recognition was given on October 12, 2022, based on the reporting period 2021–2022.
About BentallGreenOak
BentallGreenOak is a leading, global real estate investment management advisor and a globally-recognized provider of real estate services. BentallGreenOak serves the interests of more than 750 institutional clients with approximately $80 billion USD of assets under management (as of September 30, 2022) and expertise in the asset management of office, industrial, multi-residential, retail and hospitality property across the globe. BentallGreenOak has offices in 28 cities across fourteen countries with deep, local knowledge, experience, and extensive networks in the regions where we invest in and manage real estate assets on behalf of our clients in primary, secondary and co-investment markets. BentallGreenOak is a part of SLC Management, which is the alternatives asset management business of Sun Life.
The assets under management shown above includes real estate equity and mortgage investments managed by the BentallGreenOak group of companies and their affiliates, and as of 1Q21, includes certain uncalled capital commitments for discretionary capital until they are legally expired and excludes certain uncalled capital commitments where the investor has complete discretion over investment.
For more information, please visit www.bentallgreenoak.com
About GRESB
GRESB is a mission-driven and industry-led organization providing standardized and validated Environmental, Social and Governance (ESG) data to financial markets. Established in 2009, GRESB has become the leading ESG benchmark for real estate and infrastructure investments across the world, used by 140 institutional and financial investors to inform decision-making.
For more information, visit GRESB.com.
Media Contacts
Rahim Ladha
Global Head of Communications, BentallGreenOak
media@bentallgreenoak.com