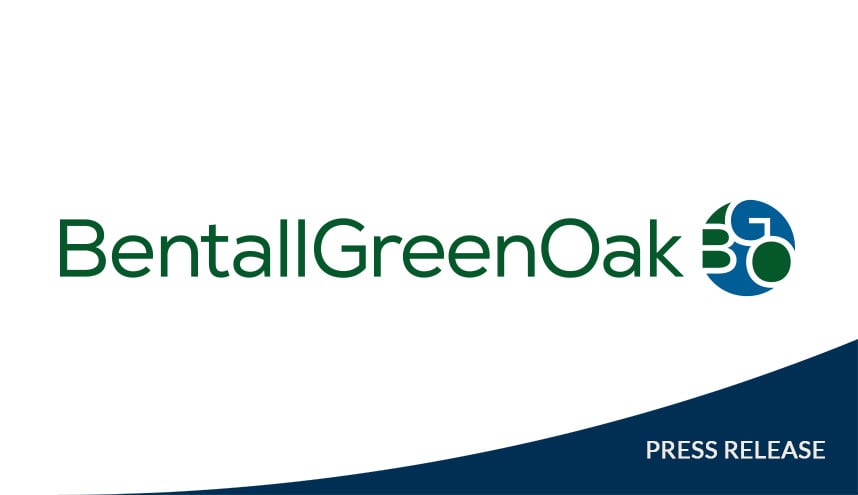 £1.433 billion in commitments from institutional investors, exceeding initial target of £1 billion.
London (March 8, 2023) — BentallGreenOak, a leading global real estate investment management advisor and provider of real estate services, has today announced the successful final close of its third UK Secured Lending Fund, with a total of £1.433 billion in commitments from over 25 global institutional investors. The Fund surpassed its initial target of £1 billion, making it one of the largest European fundraises for a debt strategy entirely focused on the UK.
"We are delighted to see such support for our latest debt strategy," said Jim Blakemore, Managing Partner and Global Head of Debt at BentallGreenOak. "Given the current challenging market environment, the demand for debt solutions will increase and it will be more important than ever to work with experienced lenders who are capable of navigating the volatility. The successful final closing, which exceeded our target, is a testament to our team's consistency and commitment to performance for our clients."
This is BentallGreenOak's third fund for UK Secured Lending and the sixth fund in the firm's broader European Debt strategy, which has invested over US$5 billion to date.
"Non-bank lenders such as ourselves have been well positioned to thrive in the post-pandemic world, where our creativity and flexibility are particularly valuable. With a cautious and selective approach we continue to invest and are looking at a healthy pipeline of attractive opportunities across UK and Europe. BGO is well positioned to lend on opportunities across the UK and Continental Europe as more properties require capital to be repositioned to be competitive in this environment from an ESG and efficiency perspective," added Manja Stueck, Managing Partner, BentallGreenOak.
The strategy will provide direct lending across a range of real estate asset classes, including office, logistics, and multi-family residential property, driven by lending on transitional assets where the loan supports the sponsor's business plan to create value. It will focus on the mid-market but has the ability to provide large-cap loans. BentallGreenOak's in-house team asset manages each investment; a critical aspect to driving investment performance and exceptional client service. Consistent with BentallGreenOak's investment approach, environmental, social and governance (ESG) considerations are a major focus and will be integrated throughout the lending process and asset management of the strategy.
About BentallGreenOak
BentallGreenOak is a leading, global real estate investment management advisor and a globally-recognized provider of real estate services. BentallGreenOak serves the interests of more than 750 institutional clients with approximately $83 billion USD of assets under management (as of December 31, 2022) and expertise in the asset management of office, industrial, multi-residential, retail and hospitality property across the globe. BentallGreenOak has offices in 28 cities across fourteen countries with deep, local knowledge, experience, and extensive networks in the regions where we invest in and manage real estate assets on behalf of our clients in primary, secondary and co-investment markets. BentallGreenOak is a part of SLC Management, which is the alternatives asset management business of Sun Life.
The assets under management shown above includes real estate equity and mortgage investments managed by the BentallGreenOak group of companies and their affiliates, and as of 1Q21, includes certain uncalled capital commitments for discretionary capital until they are legally expired and excludes certain uncalled capital commitments where the investor has complete discretion over investment.
For more information, please visit www.bentallgreenoak.com
Media Contacts
Rahim Ladha
Global Head of Communications, BentallGreenOak
media@bentallgreenoak.com