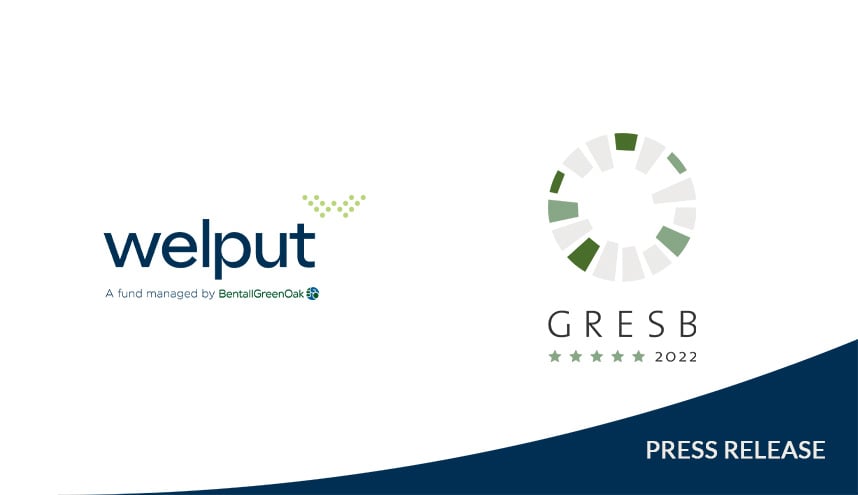 London (November 24, 2022) — BentallGreenOak's (BGO) West End of London Property Unit Trust (Welput) has again achieved a 5-star ranking, the highest possible distinction, in the 2022 Global Real Estate Sustainability Benchmark (GRESB). GRESB is the leading ESG benchmark for real estate and infrastructure investments across the world, used by 140 institutional and financial investors to inform decision-making and providing standardised ESG data to financial markets.
Welput has been recognised as an industry leader, achieving performance in the top 20% of global GRESB participants, closing out a year of world-leading ESG achievements in real estate development. Specifically, Welput placed 2nd within the Europe/non-listed/value add funds out of 78 of its peers in the industry. In the Management Component of the 2022 GRESB assessment, the firm achieved a 100% grade. Welput's 2022 results are the latest highpoint in the strategy's strong leadership on ESG since its first GRESB submission in 2014, affirming a history of prioritising sustainability, community engagement and strong governance as a core part of the strategy's investment thesis.
"Excellence in ESG performance has been a distinguishing hallmark of Welput. Our teams, who are driving this excellence, are continuously pushing new boundaries that reveal exciting opportunities to further reduce our carbon and environmental footprint. These efforts are resulting in social outcomes that are strengthening our connection to community and creating the most dynamic and desirable destinations in London for businesses and people to thrive," said Ker Gilchrist, Managing Partner, BentallGreenOak, with responsibility for leading Welput. "The real challenge for us is to create a greater link between an improved environmental impact and a societal change on the doorsteps of where we physically invest. This will be a huge element of our ambition for 2023 and beyond."
The 2022 real estate benchmark saw the largest ever growth in total numbers, with 1,820 property companies, real estate investment trusts, funds, and developers now participating worldwide, covering USD 6.9 trillion of GAV across 74 countries. GRESB data is used by 170 institutional and financial investors with more than USD 51 trillion in AUM.
About GRESB
GRESB is a mission-driven and industry-led organization providing standardized and validated Environmental, Social and Governance (ESG) data to financial markets. Established in 2009, GRESB has become the leading ESG benchmark for real estate and infrastructure investments across the world, used by 140 institutional and financial investors to inform decision-making.
For more information, visit GRESB.com.
About Welput
Welput was formed in 2001 and is the largest unlisted specialist real estate fund to invest in and develop Central London offices. The fund currently holds a portfolio of 9 assets, comprising over 1 million sq. ft of accommodation, spread across Central London's core sub-markets. Welput is wholly managed by BentallGreenOak (BGO) and is supported by a dedicated team of in-house specialists with extensive experience in the fund, asset and development management of London properties.
Since inception, the team has developed over 3.3m sq. ft of accommodation on behalf of Welput and other BGO funds. Welput's development strategy looks to challenge and outperform industry standards rather than tick boxes - continually seeking new and innovative ways to create a long-term positive impact on the city, but more importantly, the planet and the people who depend on it.
Maximising social impact is a key objective and a strategy for enhanced consultation with local communities helps to drive decision-making - connecting people and creating opportunity.
Welput's world class and planet friendly places are designed with the future in mind. A pragmatic and prudent approach to management ensures the infrastructure and agility to meet evolving occupational and environmental needs. Over 20 years, Welput has forged long-term, collaborative relationships with the world's leading businesses, and continues to seek like-minded partners.
For more information, please visit www.welput.com
About BentallGreenOak
BentallGreenOak is a leading, global real estate investment management advisor and a globally-recognized provider of real estate services. BentallGreenOak serves the interests of more than 750 institutional clients with approximately $80 billion USD of assets under management (as of September 30, 2022) and expertise in the asset management of office, industrial, multi-residential, retail and hospitality property across the globe. BentallGreenOak has offices in 28 cities across fourteen countries with deep, local knowledge, experience, and extensive networks in the regions where we invest in and manage real estate assets on behalf of our clients in primary, secondary and co-investment markets. BentallGreenOak is a part of SLC Management, which is the alternatives asset management business of Sun Life.
The assets under management shown above includes real estate equity and mortgage investments managed by the BentallGreenOak group of companies and their affiliates, and as of 1Q21, includes certain uncalled capital commitments for discretionary capital until they are legally expired and excludes certain uncalled capital commitments where the investor has complete discretion over investment.
For more information, please visit www.bentallgreenoak.com
Media Contacts
Rahim Ladha
Global Head of Communications, BentallGreenOak
media@bentallgreenoak.com