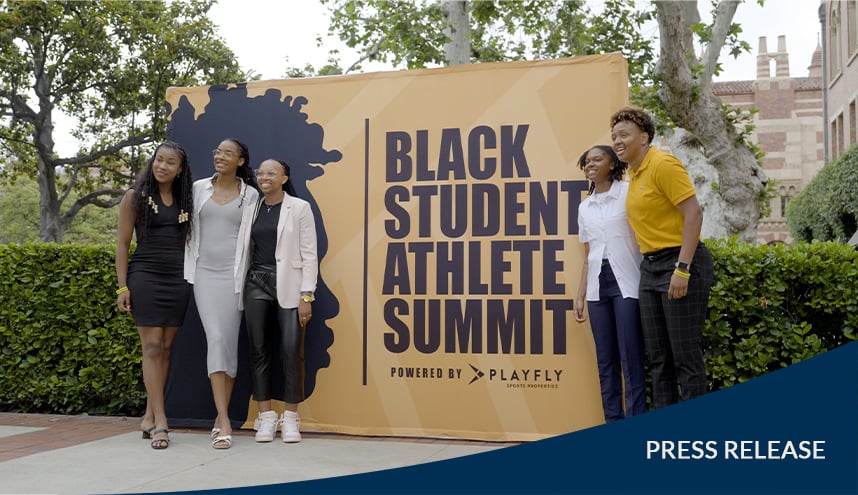 New Internship Program includes Partnerships with 9 NCAA Division I Colleges and Universities, and Mentorship from Senior Leaders in Commercial Real Estate and Professional Sports
Los Angeles, CA (May 24, 2023) — The Black Student-Athlete Summit (BSAS), a platform dedicated to advancing the professional and academic success of Black student-athletes, is partnering with Project Destined to launch a new virtual internship program that will provide Black student-athletes with training in financial literacy, entrepreneurship, and real estate. Financial support is being provided by some of the nation's leading impact-minded real estate firms, including: BGO, Brookfield, Catalyst Housing Group, Dune Real Estate Partners, Jemcor Development Partners, Landspire Group, Marcus & Millichap, Virtu Investments, The Vistria Group, and others.
The inaugural program will begin in June 2023. Student athletes will participate in Project Destined's multi-week, paid virtual internship, which includes more than 25 hours of real estate-based training. Program participants will also join executives to evaluate real-time commercial real estate transactions in their community and compete in pitch competitions to senior industry leaders. The internship includes opportunities for scholarships and networking with more than 250 corporate partners. During the program, real estate industry mentors will also prepare, engage, and guide students one-on-one to help them develop a range of fundamentals including financial, technical, presentation and leadership skills designed to launch their careers in commercial real estate.
Over the course of the next year, the program will include 100 student-athletes from the University of Arizona, University of California Davis, University of California San Diego, University of Cincinnati, Central Michigan University, Georgetown University, University of Missouri, Washington State University and Western Michigan University.
The participants in the program will additionally benefit from the support of program co-chairs representing the NBA, Los Angeles Lakers, and Tennessee Titans, who will provide Project Destined with guidance on curriculum design and content.
"It has been three years since Catalyst partnered with UC Davis and Project Destined to launch revolutionary educational programming dedicated to the empowerment of Black student-athletes," said Jordan Moss, founder and CEO of Catalyst Housing Group. "The expansion of this platform is a natural evolution of this collective effort and will provide tangible pathways for thousands of Black student-athletes to pursue future careers in commercial real estate. We are incredibly grateful to the academic institutions and financial sponsors who have made this all possible on a national scale and look forward to witnessing the continued diversification of commercial real estate talent pools."
"Project Destined's focused efforts in creating new pathways for diverse, talented students to establish meaningful entry-points to a career in commercial real estate has been nothing short of ground-breaking," said Sonny Kalsi, co-CEO of BGO. "Today, we are thrilled to join their newest venture alongside the Black Student-Athlete Summit, and so many of our esteemed peers in the industry and leading universities across the nation, including my alma mater, Georgetown University, to deliver educational programming that will empower Black students to become the chief executives of their future."
"We are extremely excited to launch this partnership with Project Destined," said Leonard Moore, founder of the Black Student-Athlete Summit. "We believe that preparing black student-athletes to become the next generation of commercial real estate professionals will be transformative for the African American community."
Since its founding in 2016, Project Destined has trained more than 5,000 participants from over 350 universities worldwide, including the U.S., U.K., Canada, Europe, and Asia. Project Destined has also partnered with over 250 real estate firms, professional sports teams and leagues including the WNBA, Los Angeles Lakers, Tennessee Titans and Detroit Pistons.
About Project Destined
Project Destined is a leading social impact platform that provides training in financial literacy, entrepreneurship, and real estate. Project Destined partners with corporations, schools, and non-profits to deliver training using its proprietary e-learning platform and live courses. Project Destined leverages a work-based learning approach where students work with executives to evaluate live deals in their community and present them in a pitch competition to industry leaders. Scholars emerge with the skills, confidence, experiences, and networks that prepare them to secure a strong first job and become stakeholders in their community. If you are interested in partnering, please visit projectdestined.com.