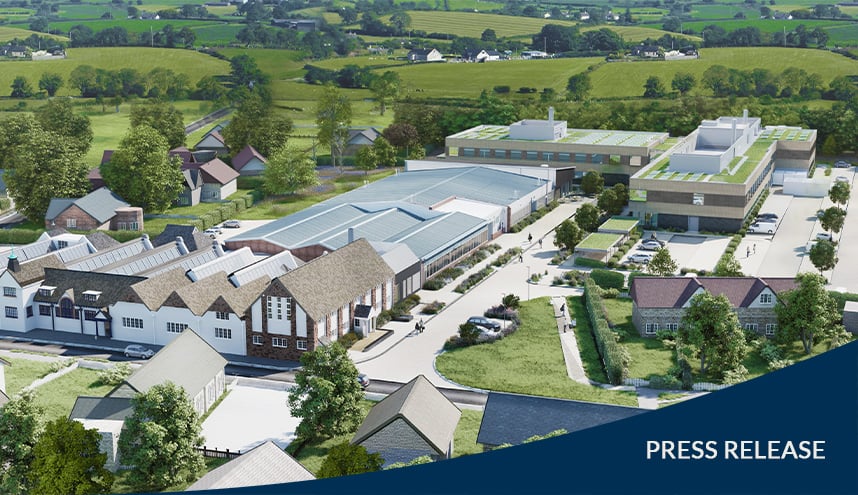 New development known as The Press, Foxton being delivered through a three-phase masterplan to transform a 7.8-acre site into a 100,000 square feet science and innovation campus
Construction is starting on phase one of the scheme, which will deliver the next available space in the Cambridge ecosystem
The scheme will provide much needed near-term fitted lab space in supply-strapped Cambridge
Well-connected development located within the Cambridge Southern Cluster, home to the UK's highest density of biotech companies
CAMBRIDGE — 13 MARCH 2023 — In a boost for UK life sciences, Mission Street, a specialist investor, developer and operator for the science and innovation sector, and BentallGreenOak (BGO) have started work to deliver The Press, Foxton - a new 100,000 square feet life sciences facility in the Cambridge Southern Cluster
The joint venture is to transform a 7.8-acre site into a science and innovation campus via sensitive re-positioning of a former printing press combined with state of the art new-build. Uniquely the scheme provides direct rail links to Cambridge Central, Cambridge Biomedical Campus (from 2025) and King's Cross
Phase one will comprise the refurbishment of a former printing press, creating 16,000 square feet of fully-fitted lab and office space across two units. Due for completion in Q3 2023, it will be one of just a handful of life sciences schemes coming online this year. Phase two, which will see the delivery of a newly constructed 65,000 sq ft building, is due to complete in summer 2024.
According to market data tracked by Mission Street, there is demand for over one million square feet of lab space in Cambridge; only 10,000 is currently available.
The Mission Steet-BGO joint venture has a development pipeline of over one million square feet of lab and office space in key strategic locations. Today's announcement follows news that the joint venture has acquired a 23-acre site to the east of Central Cambridge, where it plans to create an urban science and innovation district that will serve the region's promising start-ups and scale-ups.
Artem Korolev, Founder and CEO of Mission Street, commented: "As part of our plans for The Press, we are bringing much-needed purpose-built life science space online quickly into market that is suffering from an acute shortage of stock. Britain's life sciences sector is at an inflection point, and to fully realise the potential of our world-leading research and discovery, we must focus on providing the facilities that will enable our burgeoning R&D ecosystem to scale and commercialise.
"Our plans for the Press have been developed through extensive and overwhelmingly positive engagement with the local community and key stakeholders. We now look forward to delivering a design-led scheme that will be an attractive addition to the Cambridge ecosystem, and continuing to engage with some incredibly exciting occupiers in supporting their growth."
About Mission Street
Mission Street was established in 2017 and is a specialist mixed-use investor, developer, and operator of real estate for the sciences and innovation sector.
Since inception, the company has managed over 1,000,000 sq ft of UK commercial property with major institutional investors and family offices, involving development and value add asset management
The company is a proven innovator and market leader in the Innovation Real Estate sector, delivering successful and complex projects including both new build R&D buildings and creative conversions of industrial and retail buildings.
For more information, visit www.mission-property.com
About BentallGreenOak
BentallGreenOak is a leading, global real estate investment management advisor and a globally-recognized provider of real estate services. BentallGreenOak serves the interests of more than 750 institutional clients with approximately $83 billion USD of assets under management (as of December 31, 2022) and expertise in the asset management of office, industrial, multi-residential, retail and hospitality property across the globe. BentallGreenOak has offices in 28 cities across fourteen countries with deep, local knowledge, experience, and extensive networks in the regions where we invest in and manage real estate assets on behalf of our clients in primary, secondary and co-investment markets. BentallGreenOak is a part of SLC Management, which is the alternatives asset management business of Sun Life.
The assets under management shown above includes real estate equity and mortgage investments managed by the BentallGreenOak group of companies and their affiliates, and as of 1Q21, includes certain uncalled capital commitments for discretionary capital until they are legally expired and excludes certain uncalled capital commitments where the investor has complete discretion over investment.
For more information, please visit www.bentallgreenoak.com
Media Contacts
Billy Moran
Account Director, Montfort Real Estate
moran@montfort.london
Artem Korolev,
CEO, Mission Street
artem@mission-property.com
Rahim Ladha
Global Head of Communications, BentallGreenOak
media@bentallgreenoak.com