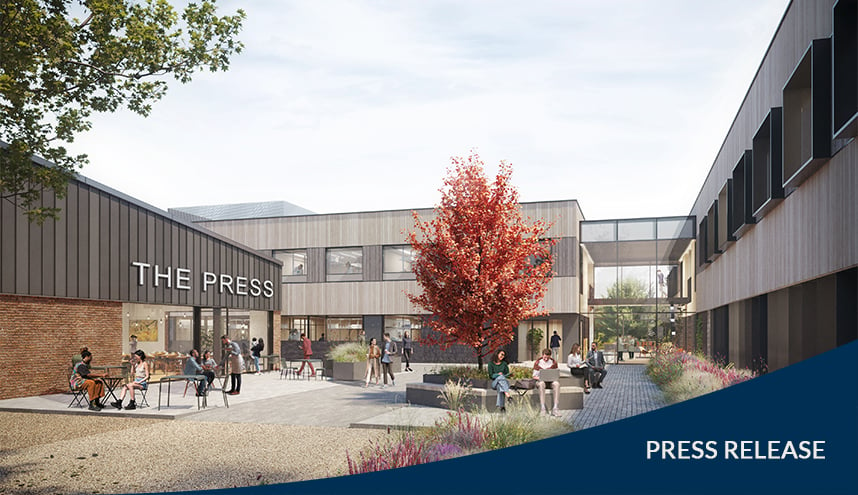 New-build space being delivered as part of The Press, Foxton – a development in the Cambridge Southern Cluster providing over 100,000 square feet of innovation real estate
Announcement represents the second phase of the three-phase masterplan
The scheme will provide much needed near-term fitted lab space in supply-strapped Cambridge
The development is located within the Cambridge Southern Cluster, home to the UK's highest density of biotech companies
LONDON – 2 MAY, 2023 — Mission Street, a specialist investor, developer and operator for the science and innovation sector, and BentallGreenOak (BGO), a global real estate investment management firm, have received planning consent to begin delivering 64,400 square feet of life science facilities at the joint venture's The Press development in Cambridge.
The new-build facilities, which will create lab and office space either as a headquarters building or up to 6 smaller suites, will form part of a wider 100,000 square foot development that is transforming a 7.8-acre site into a science and innovation campus via sensitive re-positioning of a former printing press combined with state of the art new-build.
Situated in the Cambridge Southern Cluster, the region with the largest critical mass of life sciences companies in the UK, the site benefits from direct rail links to Cambridge Central, Cambridge Biomedical Campus (from 2025) and London King's Cross.
Construction of the new-build is due to commence this summer with completion in mid-2024. This will follow Phase One which is under construction and due to provide two fitted lab and office suites totalling 16,000 square feet later this year
The Mission Steet-BGO joint venture has a committed development pipeline of over 1.2 million square feet of lab and office space in key strategic locations. Today's announcement follows news that Mission Street has strengthened its advisory board with the appointments of two highly experienced life science investors. Peter Finan, a partner at transatlantic venture capital firm Epidarex Capital, and Jonathan Hepple, founder of Rosetta Capital, a leading international secondary venture firm focused on life sciences.
The pair join Tim Funnell, a partner at venture capital firm Monograph Capital, on Mission Street's board, which has been grown to include leading investors and founders with experience from founding and investing in early-stage start-ups all the way through to senior-level operational experience at major international pharmaceutical companies.
Artem Korolev, Founder and CEO of Mission Street, said:
"We are thrilled to receive planning consent for Phase 2 of The Press. Securing the consent under delegated powers is testament to the enormous effort Mission Street and our professional team have put in to engaging with the local community and wider stakeholders.
We are proud to be delivering a scheme that genuinely provides benefits at a local level, whilst addressing the chronic undersupply of high-quality lab and office space that is much needed in the Cambridge ecosystem."
About Mission Street
Mission Street was established in 2017 and is a specialist mixed-use investor, developer, and operator of real estate for the sciences and innovation sector.
Since inception, the company has managed over 1.5 million sq ft of UK commercial property with major institutional investors and family offices, involving development and value add asset management
The company is a proven innovator and market leader in the Innovation Real Estate sector, delivering successful and complex projects including both new build R&D buildings and creative conversions of industrial and retail buildings.
For more information, visit www.mission-property.com
About BentallGreenOak
BentallGreenOak is a leading, global real estate investment management advisor and a globally-recognized provider of real estate services. BentallGreenOak serves the interests of more than 750 institutional clients with approximately $83 billion USD of assets under management (as of December 31, 2022) and expertise in the asset management of office, industrial, multi-residential, retail and hospitality property across the globe. BentallGreenOak has offices in 28 cities across fourteen countries with deep, local knowledge, experience, and extensive networks in the regions where we invest in and manage real estate assets on behalf of our clients in primary, secondary and co-investment markets. BentallGreenOak is a part of SLC Management, which is the alternatives asset management business of Sun Life.
The assets under management shown above includes real estate equity and mortgage investments managed by the BentallGreenOak group of companies and their affiliates, and as of 1Q21, includes certain uncalled capital commitments for discretionary capital until they are legally expired and excludes certain uncalled capital commitments where the investor has complete discretion over investment.
For more information, please visit www.bentallgreenoak.com
Media Contacts
Billy Moran
Account Director, Montfort Real Estate
moran@montfort.london
Artem Korolev,
CEO, Mission Street
artem@mission-property.com
Rahim Ladha
Global Head of Communications, BentallGreenOak
media@bentallgreenoak.com