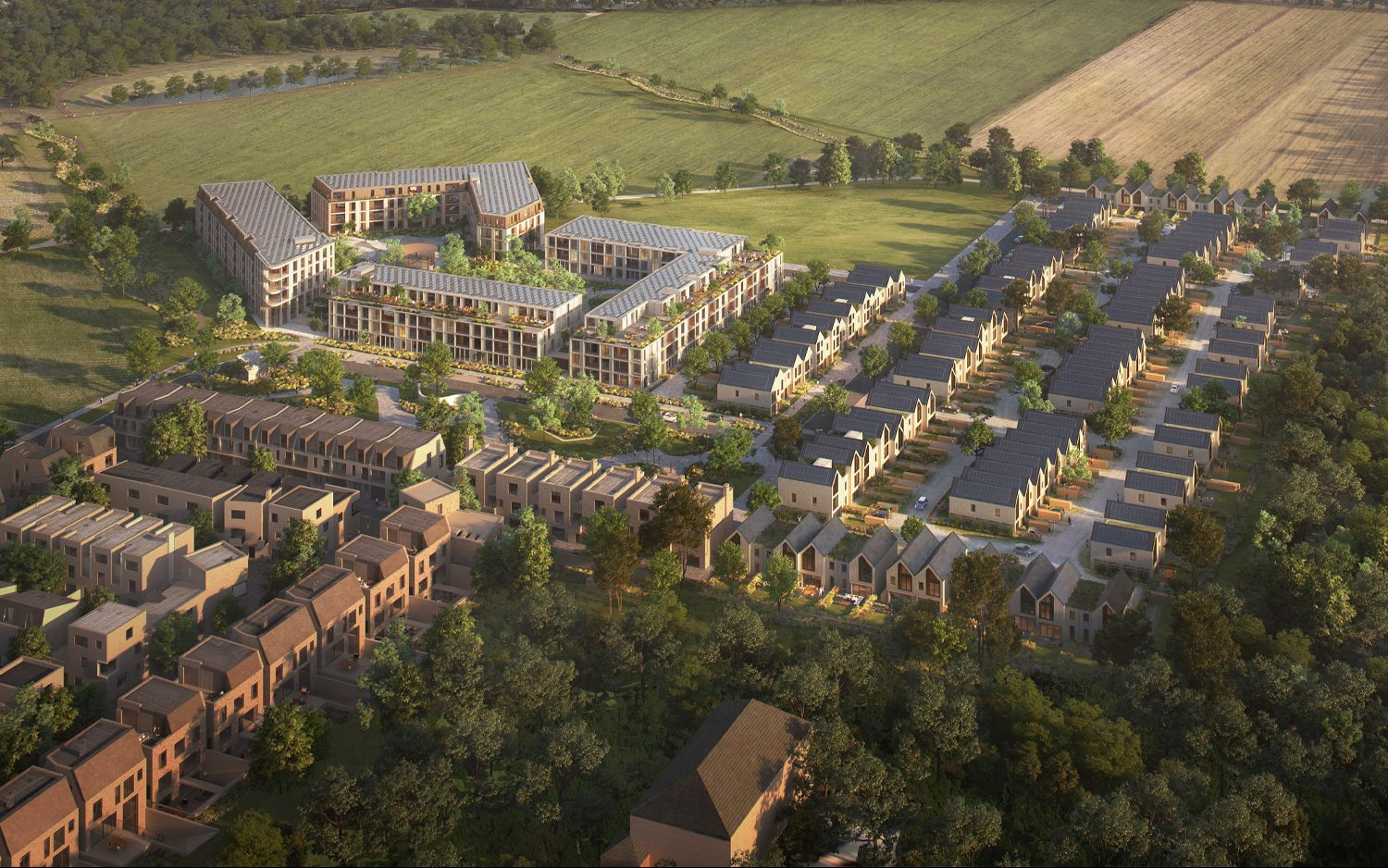 London, October 17, 2023 – Nuveen Real Estate, one of the largest real estate investment managers in the world with $152 billion of assets under management, has formed a joint venture ('JV') with UK-focused real estate investment manager Apache Capital to fund single-family build-to-rent ('BTR') housing across the UK. All sites will be developed and operated for the long-term by Present Made, Apache Capital's wholly owned single-family BTR platform.
The JV will operate on a programmatic basis, with each site assessed individually. Nuveen Real Estate and Apache Capital will work together to continue to source other opportunities to grow Present Made's portfolio.
The first site to be funded will be Present Made's 373-home development in Eddington, Cambridge, which is being delivered in collaboration with the University of Cambridge and benefits from full planning approval. The scheme forms a key part of the University's 150-hectare North West Cambridge masterplan, which includes 3,000 homes (of which 50% are for University key workers as affordable housing), 2,000 student beds, 100,000 sq. m. of employment space and 5,300 sq. m. of retail.
Alongside high-quality housing built exclusively for rent, Present Made of Eddington will provide a range of amenities and shared spaces, including a communal pavilion, gym, yoga studio, private dining room, bike café, games room, cinema and co-working space. This will make Present Made of Eddington Cambridge's first purpose-built and designed rental housing development with on-site professional management and amenity provision.
The Present Made team will provide round-the-clock resident support, be responsible for all maintenance as well as running a year-long calendar of social and wellbeing activities. These will include zero waste pop-ups, cycling and running clubs, cultural celebrations, live music, art classes, cooking classes, charitable events and talks from inspirational people.
Start on-site at Present Made of Eddington is expected later this month. Bennett Construction has been appointed as main contractor, with practical completion expected in late 2025. Alternative lender BentallGreenOak has provided a development loan facility for the project.
The scheme is targeting Code for Sustainable Homes Level 5 and will be compliant with the new Part L Building Regulations, which will see a dramatic enhancement to energy efficiency and reduction in CO2 emissions.
Jasper Gilbey, Head of Housing, Alternatives and Strategic Transactions at Nuveen Real Estate, said: "Single family housing remains one of our core investment strategies within the living space – underpinned by a chronic undersupply of high quality professionally managed rental accommodation. Our partnership with Apache Capital provides us with a great opportunity to satisfy the growing tenant demand in strategic growth markets like Cambridge and we look forward to realising this exciting project together."
Limor Shklaz, Director of Housing, Alternatives and Strategic Transactions at Nuveen Real Estate, said: "Present Made of Eddington will provide a distinctive rental offering that will be the first of its kind in Cambridge. Central to this offering will be the core principles of community, sustainability and wellbeing. The design and development of the scheme will apply leading practices for energy efficiency, renewable energy and water conservation, while achieving a biodiversity net gain – ultimately to the benefit of our residents."
John Dunkerley, Chief Executive Officer at Apache Capital, said: "With Nuveen Real Estate as a funding partner, we are looking to replicate the success of our prime multi-family strategy to create a market-leading single-family platform in Present Made. Our flagship development in Eddington will push the boundaries of quality in both design and operations, creating a community that will support the University's wider ambitions with the North-West Cambridge masterplan."
Alan Penfold, Managing Director at Present Made, said: "Between Nuveen Real Estate and the University of Cambridge's Estates Division, we have two best-in-class partners to support the delivery of Present Made of Eddington. There is growing demand for high quality rental housing outside of city centres that provides both a lifestyle and a home, which we are looking to satisfy through Present Made, with Eddington serving as 'proof-of-concept' through the quality of its consumer offering."
Matt Johnson, Head of Development for North West Cambridge at the University of Cambridge, said: "Eddington is an exemplary neighbourhood home to a growing and diverse community of residents, students, businesses and service providers. Through our work with leading development partners, we are continuing to deliver much needed homes, across a range of tenures, which can support the continued growth of the Cambridge eco-system. Present Made will deliver high quality homes for rent providing residents with homes that support sustainable lifestyles, flexibility and choice. We look forward to welcoming the residents of Present Made to the community."
Martin Sheridan, Managing Director in BGO's European Debt team: "BGO are very pleased to be supporting the Nuveen and Present Made JV in building out this prestigious and innovative single-family housing development in Cambridge. The transaction is consistent with our debt investment thesis of backing high quality institutional sponsors in delivering best-in-class properties with a laser focus on sustainability, wellbeing and the community. We have worked with the wider Apache group on multiple multi-family deals over the years and are excited to play a role in their new single-family housing platform as well."
-ENDS-
Nuveen Real Estate
Nuveen Real Estate is one of the largest investment managers in the world with $152 billion of assets under management.
Managing a suite of funds and mandates, across both public and private investments, and spanning both debt and equity across diverse geographies and investment styles, we provide access to every aspect of real estate investing.
With over 85 years of real estate investing experience and 820 employees* located across 30+ cities throughout the United States, Europe and Asia Pacific, the platform offers unparalleled geographic reach, which is married with deep sector expertise.
For further information, please visit us at nuveen.com/realestate
*Includes 385+ real estate investment professionals, supported by a further 430+ Nuveen employees.
Source: Nuveen, 30 June 2023.
Apache Capital
Apache Capital is an investment manager focused on living real estate, with a proven track record of creating value through investing, developing, and operating its assets under management.
Our mission is to improve people's lives by partnering with institutional investors to build beautiful homes and sustainable communities that push the boundaries for design and service.
Investing for the long term, our philosophy is to focus on demographically and structurally supported asset classes.
About Eddington
Eddington is a new community setting the standard in sustainable living, delivered by the University of Cambridge and its development partners. This visionary urban area for North West Cambridge will provide new homes, learning spaces, amenities and green spaces, creating a vibrant environment for people to live, learn, and socialise in. Eddington will secure the long-term success of the University by providing homes for its academic staff and students, to maintain its status as a leading academic institution on a global stage, and for the wider community. The community is beautifully and innovatively designed, inspired by the architecture of the city and University of Cambridge.
_______________________________________________________________
Media Enquiries
Contact (Nuveen Real Estate):
Nick Scott
+44 (0)7973 932721 Nicholas.Scott@nuveenglobal.com
Contact (Apache Capital / Present Made)
Tom Roberts
Montfort Communications
+44 (0) 7722440999 roberts@montfort.london