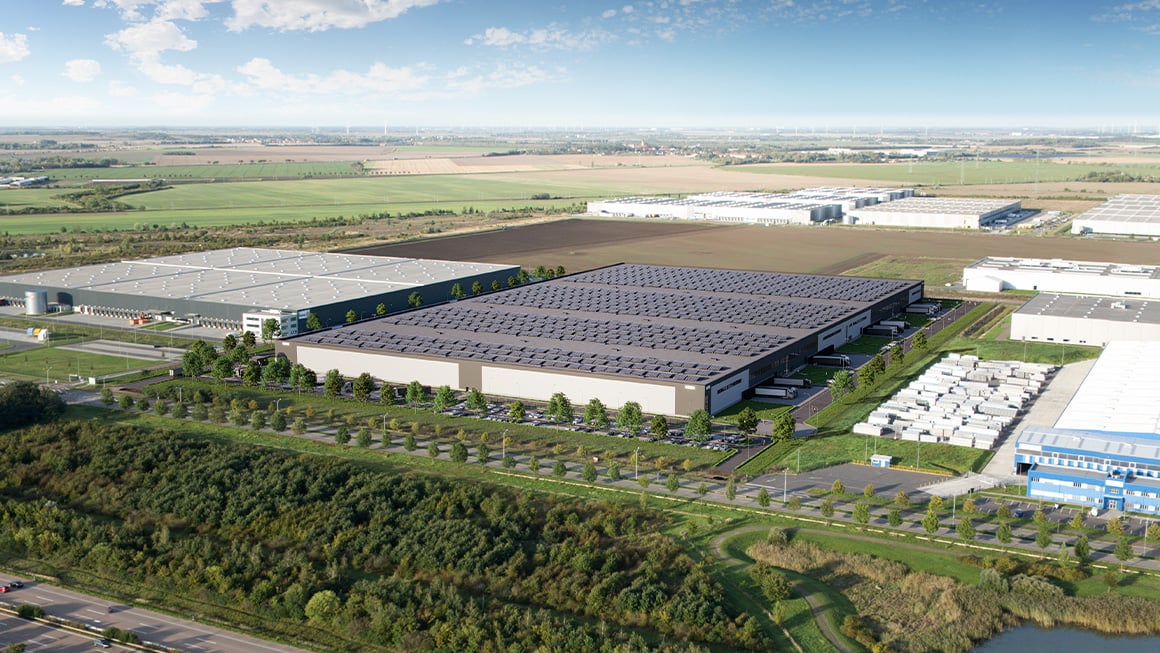 Colliers to partner on the project as exclusive lead for leasing
The approx. 90,000 sqm expected to be ready for occupancy in Q4 2024
Leipzig, October 25, 2023 - BGO, a global real estate investment manager and experienced logistics specialist, is developing one of the largest contiguous industrial and logistics spaces in Central Germany at Star Park Halle: "THE SPACE".
In the 230 hectare industrial area, directly located at the A14 motorway near Halle/Saale, BGO will develop the approx. 89,677 sqm building starting at the end of 2023 and which will be ready for occupancy in Q4 2024. The emerging industrial property is perfectly suited for companies from the fields of industry, production, logistics and technology. A total of eight hall sections are planned, ranging in size from approx. 8,757 sqm to approx. 10,428 sqm. Four different utilization concepts are planned: "SMALL BOX" from 8,757 sqm of hall space, "CROSSDOCK" from around 16,000 sqm with a two-sided delivery zone, "BIG BOX" from around 40,000 sqm and the leasing of the complete area "THE SPACE" with 80,209 sqm.
Steffen Sauer, Head of Logistics Letting Germany at Colliers about the project: "Various production and technology companies have settled in Star Park Halle during the recent years. The demand for space in this segment continues to be high, and the areas are therefore urgently needed to ensure new settlements and thus further growth in the region."
"With this project, BGO underlines its confidence in the logistics market in the Central Germany region and expands its presence as a major investor in Germany," says Jürgen Diehl, Managing Director at BGO. "Of course, the ESG issue is also very important to us. We are striving, in addition to the platinum certification of the DGNB, also for a GEG-40 standard."
Colliers will exclusively search for suitable users from the logistics, production and technology sectors and is already conducting initial talks with prospective tenants.
Further information on the project can be found here www.thespace-starpark.de
About BGO
BGO is a leading, global real estate investment management advisor, real estate lender, and a globally recognized provider of real estate services. BGO serves the interests of more than 750 institutional clients with approximately $83 billion USD of assets under management (as of June 30, 2023) and expertise in the asset management of office, industrial, multi-residential, retail and hospitality property across the globe. BGO has offices in 28 cities across fourteen countries with deep, local knowledge, experience, and extensive networks in the regions where we invest in and manage real estate assets on behalf of our clients in primary, secondary and co-investment markets.
BGO is a part of SLC Management, which is the alternatives asset management business of Sun Life.
The assets under management shown above includes real estate equity and mortgage investments managed by the BGO group of companies and their affiliates, and as of 1Q21, includes certain uncalled capital commitments for discretionary capital until they are legally expired and excludes certain uncalled capital commitments where the investor has complete discretion over investment. For more information, please visit www.bgo.com
About Colliers International Deutschland GmbH
Colliers' real estate consultants are represented in Berlin, Dresden, Düsseldorf, Frankfurt, Hamburg, Cologne, Leipzig, Munich, Nuremberg, Stuttgart and Wiesbaden. The range of services includes advice on the purchase and sale as well as leasing of commercial real estate in the asset classes office, retail, hotel, industry & logistics, on the purchase and sale of land, on the purchase and sale of residential real estate in the form of residential and commercial buildings and residential capital markets as well as on the purchase and sale of land and forestry real estate. Added to this are services such as real estate valuation and financing advice. The two services Corporate Solutions and Workplace Advisory are offered in the Occupier Services unit. Colliers International Group Inc. (NASDAQ, TSX: CIGI) operates worldwide with approximately 18,000 experts in 65 countries. More here: www.colliers.de
Medienkontakt
RUECKERCONSULT GmbH
Judith Väthjunker
T +49 221 29 29 56 314
M +49 151 276 165 61