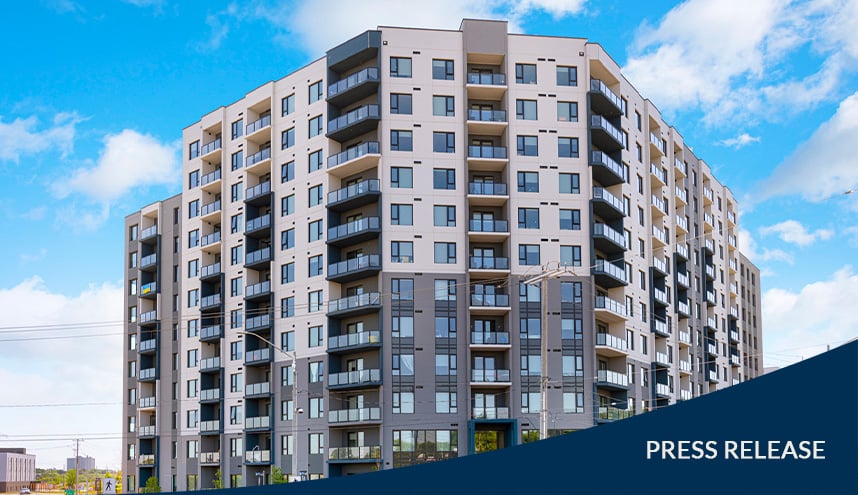 Toronto – June 28, 2023 — Starlight Investments and BGO (collectively "the Partnership") are thrilled to announce that they were recently awarded with the Investment Deal of the Year and Multi-Family Investment Deal of the Year awards at the prestigious 2023 NAIOP Greater Toronto Chapter Real Estate Excellence (REX) Awards. Both awards recognize the Partnership's successful and innovative collaboration on the ArtHaus community project (1425 Block Line Road) in Kitchener, Ontario.
ArtHaus is a modern community featuring two newly constructed, highly amenitized concrete towers that redefine the skyline of Kitchener. Purchased in 2022, the property totals 363 residential suites divided between a 12-storey tower with 233 suites and an 8-storey tower with 130 suites, completed in 2021 and 2022, respectively. Additionally, the community offers 461 parking stalls, with 283 underground and 178 surface stalls and 31 storage lockers for residents' convenience.
"These awards are a testament to our commitment to not only investing in high-quality real estate assets but also transforming communities and enhancing resident experiences," said Jamie Miller, Senior Vice President, Canadian Residential, Starlight Investments. "We recognized the ArtHaus project as a great opportunity from the start, and we're proud to be part of the positive growth trajectory in the Kitchener region."
ArtHaus holds the distinct honour of being the first occupied residential building in North America to receive a WiredScore Gold certification. This milestone underscores ArtHaus as one of Canada's most technologically advanced residential rental communities, setting a benchmark for digital connectivity and security in the real estate industry.
"ArtHaus exemplifies our commitment to investing in exceptional real estate properties that foster the creation of vibrant communities. We are proud of what we have been able to achieve on this project alongside our partner and we look forward to making innovation one of the true hallmarks of this rental community for years to come," said Michael Fraidakis, Managing Director and Head of Canadian Investments, BGO.
Together, the Partnership foresees continued growth and prosperity in the region, given the strong market dynamics, quality of the assets and the increasing demand for high-quality residential rental options.
The Investment Deal of the Year and Multi-Family Investment Deal of the Year awards reflect Starlight Investments' and BGO's commitment to innovation, collaboration and the continued evolution of real estate investments in Canada.
About Starlight Investments
Starlight Investments is a leading global real estate investment and asset management firm. A privately held owner, developer and asset manager of over 77,000 multi-residential suites and 9 million square feet of commercial property space, we offer a range of investment vehicles across various real estate strategies. Starlight's guiding mission is to balance our tenure with visionary curiosity to create positive impact for investors and communities alike. At Starlight, we invest with impact. Learn more at www.starlightinvest.com or connect with us on LinkedIn.
About BGO
BGO is a leading, global real estate investment management advisor and a globally recognized provider of real estate services. BGO serves the interests of more than 750 institutional clients with approximately $83 billion USD of assets under management (as of March 31, 2023) and expertise in the asset management of office, industrial, multi-residential, retail and hospitality property across the globe. BGO has offices in 28 cities across fourteen countries with deep, local knowledge, experience, and extensive networks in the regions where we invest in and manage real estate assets on behalf of our clients in primary, secondary and co-investment markets. BGO is a part of SLC Management, which is the alternatives asset management business of Sun Life.
The assets under management shown above includes real estate equity and mortgage investments managed by the BGO group of companies and their affiliates, and as of 1Q21, includes certain uncalled capital commitments for discretionary capital until they are legally expired and excludes certain uncalled capital commitments where the investor has complete discretion over investment.
For more information, please visit www.bgo.com
Contact:
Talia Schwebel
Vice President
Marketing
+1-416-234-8444
tschwebel@starlightinvest.com
Rahim Ladha
Global Head of Communications
media@bentallgreenoak.com