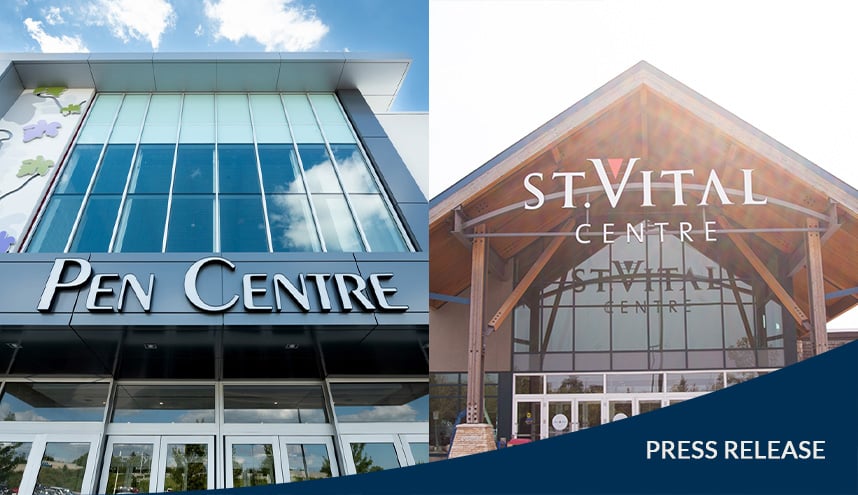 Toronto (December 13, 2022) — BentallGreenOak (BGO) is pleased to announce that The Pen Centre, a 1.1 million sq. ft. regional shopping centre located in St. Catharines, ON, and St. Vital, a 908,000 sq. ft. shopping centre located in Winnipeg, Manitoba have achieved BOMA BEST Platinum status in recognition of their superior operational performance and environmental leadership in the commercial real estate industry. With the announcement, BGO adds Pen Centre and St. Vital to its managed roster of 61 retail assets, and 272 real estate assets in total, that have achieved BOMA Best Certifications.
The Pen Centre is the largest enclosed shopping centre in Niagara Region. BGO assumed management of The Pen Centre in January 2021, and since doing so undertook significant investment in technology, equipment, and procedures which resulted in the site achieving a score of over 90% on the BOMA BEST scale.
St. Vital, which was also brought into the BGO retail management portfolio in January 2021, boasts the city's largest food court and attracts people from all over the city of Winnipeg because of its focus on community events, convenient location, and selection of mid-priced fashion and services. As one of the first shopping centres in Canada to achieve Platinum standing, St. Vital centre is continually raising the bar on its programs to reaffirm its commitment to environmental programming.
"This achievement is indicative of the dedication BGO has always applied towards environmental best practices and management. In a very short period of time, our site teams with the help of BGO environmental, operational, and management departments, has elevated our assets to new levels of sustainability and environmental management excellence. We are proud of the accomplishment of our teams and their commitment to working with our merchants on these important initiatives," said Steve Michniewicz, Managing Director of BentallGreenOak.
To achieve Platinum Status, the highest level within the BOMA BEST scale, properties must meet minimum BEST Practices in management policies, plans and programs for energy, water, air quality, waste treatment, and more.
About BentallGreenOak
BentallGreenOak is a leading, global real estate investment management advisor and a globally-recognized provider of real estate services. BentallGreenOak serves the interests of more than 750 institutional clients with approximately $80 billion USD of assets under management (as of September 30, 2022) and expertise in the asset management of office, industrial, multi-residential, retail and hospitality property across the globe. BentallGreenOak has offices in 28 cities across 14 countries with deep, local knowledge, experience, and extensive networks in the regions where we invest in and manage real estate assets on behalf of our clients in primary, secondary and co-investment markets. BentallGreenOak is a part of SLC Management, which is the alternatives asset management business of Sun Life.
The assets under management shown above includes real estate equity and mortgage investments managed by the BentallGreenOak group of companies and their affiliates, and as of 1Q21, includes certain uncalled capital commitments for discretionary capital until they are legally expired and excludes certain uncalled capital commitments where the investor has complete discretion over investment.
For more information, please visit www.bentallgreenoak.com
Media Contacts
Rahim Ladha
Global Head of Communications, BentallGreenOak
media@bentallgreenoak.com