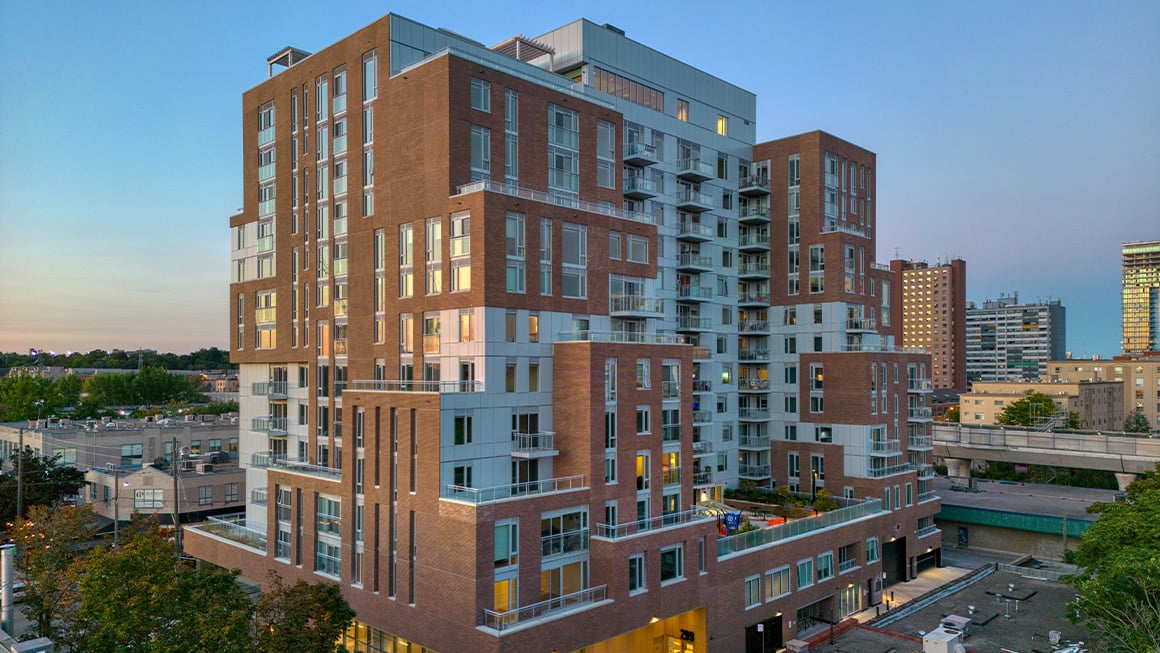 TORONTO, October 3, 2023 – BGO and TAS are pleased to launch The Campbell, a 14-storey, 236-unit purpose-built residential project in Toronto's Junction Triangle neighbourhood featuring the first public library branch in the city delivered as part of an agreement between the development team and the Toronto Public Library. The Campbell also features 10 affordable housing units for women-led households who have survived domestic violence.
The Campbell was conceived as a multifamily residential development with a community inspired mission extending beyond its residents and into the fabric of the surrounding area where this new library amenity will deliver important new services to families and residents.
"From the beginning, this project went above and beyond. Our approach was initiated and guided by community input. We believe it's important to engage with local communities early and often. We don't meet with them to check a box – we invested time and resources to build relationships with people, to learn from them and to ensure our projects have a positive impact on their lives," said Mazyar Mortazavi, President and CEO of TAS.
"The launch of The Campbell fulfills the vision of BGO and property co-owner, Sun Life, to execute this project with social innovation and lasting benefits to the surrounding community," said Ross Strowger, Managing Director, BGO. "The Campbell is a great success story of bringing two likeminded partners together to do something very special that goes far beyond a typical residential development project. As proud co-owners and managers of The Campbell, we are now eager to bring this residential community to life through our property management approach that puts residents at the heart of everything we do."
The social focus of this new development will be further enhanced by the establishment of 10 affordable housing units for the exclusive use of women-led households who have survived domestic violence. It was made possible through an innovative new partnership with Interval House and The Redwood.
"As Canada's first shelter for women and children fleeing intimate partner violence (IPV), Interval House prioritizes innovative solutions to address barriers to becoming economically self-sufficient and breaking the cycle of violence. In the city of Toronto, lack of affordable housing is a systemic barrier that women survivors of intimate partner violence cannot overcome on their own. It is also the primary barrier to employability and employment. The affordable units BGO and TAS are providing will transform the lives of survivors of intimate partner violence that will call The Campbell home, allowing them to break the cycle of abuse for good by achieving safety, security and economic independence for themselves and their families," said Fazia Mohammed, Community Programs Manager at Interval House.
"The pandemic has worsened the situation for survivors of domestic violence. The chronic shortage of affordable housing and the soaring cost of living makes it impossible for survivors to get out and stay out of an abusive home. Those who do manage to find a shelter bed soon discover that there is nowhere to go after their stay. Trapped and with nowhere to go, more are now suffering behind closed doors. But thanks to this initiative, some of our most vulnerable women and children will now finally have a safe place to call home in The Campbell," said Abi Ajibolad, Executive Director at The Redwood.
"To The Redwood and Interval House, this initiative is more than just ten units. It also helps free up shelter space in our sector when turn-away rates have never been higher. During this time of dire need, every bit helps and inspires other future project developments so even more housing support can be provided to survivors," adds Ajibolade.
During the community engagement process, BGO and TAS learned that the existing local library branch was not meeting the needs of the community and needed to be upgraded and expanded. The partners struck a first-of-its-kind agreement with the City of Toronto and Toronto Public Library to integrate a brand-new library branch into the ground floor of The Campbell.
"The new library at 299 Campbell Avenue will better serve the changing needs of the Perth/Dupont community with a much larger, light-filled welcoming and inclusive space and expanded programs and services. We're pleased to partner with TAS and BGO and appreciate their support on this project that has allowed for much needed library space for the community," said Moe Hosseini-Ara, Director, Branch Operations & Customer Experience at Toronto Public Library.
The Campbell's extensive art program also features 100% local BIPOC-sourced art that will contribute to the bespoke aesthetic of this inclusive and vibrant new resident community inspired by its diverse surroundings. Environmental performance is also a high priority for TAS and BGO as the property will target LEED for Multifamily Midrise v4, Toronto Green Standard Tier 2, and Fitwel certifications.
Learn more about Toronto's newest purpose-built rental living community and its social mission by visiting: https://www.rentthecampbell.com/
About BGO
BGO is a leading, global real estate investment management advisor, real estate lender, and a globally recognized provider of real estate services. BGO serves the interests of more than 750 institutional clients with approximately $83 billion USD of assets under management (as of June 30., 2023) and expertise in the asset management of office, industrial, multi-residential, retail and hospitality property across the globe. BGO has offices in 28 cities across fourteen countries with deep, local knowledge, experience, and extensive networks in the regions where we invest in and manage real estate assets on behalf of our clients in primary, secondary and co-investment markets. BGO is a part of SLC Management, which is the alternatives asset management business of Sun Life.
The assets under management shown above includes real estate equity and mortgage investments managed by the BGO group of companies and their affiliates, and as of 1Q21, includes certain uncalled capital commitments for discretionary capital until they are legally expired and excludes certain uncalled capital commitments where the investor has complete discretion over investment.
For more information, please visit www.bgo.com
About TAS
TAS is an unconventional impact company that uses real estate as a tool to drive profit and purpose. As an industry leader in impact real estate, Certified B Corporation, signatory to PRI and member of the Global Impact Investing Network (GIIN), TAS pursues opportunities that create value for investors and generate measurable social and environmental impact. TAS has an active pipeline and portfolio totaling over 7 million square feet across 22 properties throughout the Greater Toronto and Hamilton Area.
TAS focuses on tackling climate change, broadening affordability and equity, and building social capital to create neighbourhoods – and ultimately cities – where people can thrive and belong. TAS champions conversation and collaboration to push the boundaries of innovation and explore what is possible. Join us by visiting tasimpact.ca and follow our journey on LinkedIn, Instagram, and Twitter.
Media Contacts
Camara Miller, TAS
Rahim Ladha, BGO