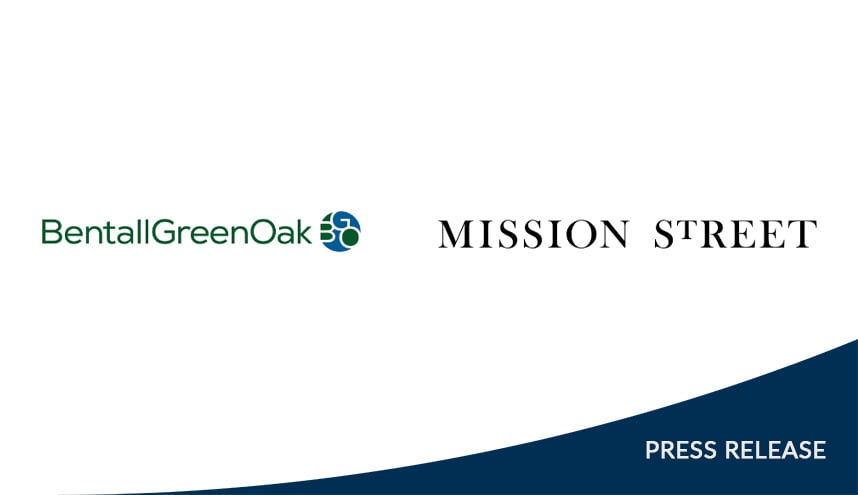 Plans will see the joint venture's development pipeline grow to over one million sq. ft, establishing it as one of the sector's biggest players
New development will deliver much-needed lab space for a market that is suffering acute supply shortages
Upon completion, the site will be the most central science and innovation campus in Cambridge, less than 10 minutes from the city centre
CAMBRIDGE – 12 OCTOBER 2022 — In a major boost to the UK's life sciences sector, Mission Street and BentallGreenOak (BGO) will deliver a world-class science and innovation campus less than 10 minutes east of the city centre, following the acquisition of a 23-acre site on Coldham's Lane in Cambridge.
This is the fifth and largest acquisition by the specialist science and innovation development joint venture since the partnership formed in January 2021. The platform now has a development pipeline of over 1m sq. ft. of lab and office space in key strategic UK locations with initial schemes in Oxford and Cambridge due for completion in mid-2023.
The scale of the 23-acre site presents the opportunity to deliver an innovative masterplan of the highest quality. The joint venture aims to offer future occupiers and the public a unique offering: an open innovation campus with transformative landscaping, new café and play area with access and views across the adjacent lakes as well as a dedicated pedestrian and cycle route to the city-centre.
Artem Korolev, Founder and CEO of Mission Street, commented: "This new acquisition provides the potential to deliver the most centrally located science and innovation district in Cambridge. The site will provide the opportunity to deliver our vision for the next generation of commercial science real estate in the UK: integrating the scheme into Cambridge's urban fabric, with collaboration and sustainability at its heart. We look forward to working with the stakeholders and local community as we work through our plans."
Toby Phelps, Managing Partner at BentallGreenOak, said: "We continue to have conviction that the science and innovation sector in the UK will be a source of growth and opportunity for strategic, purpose-driven real estate investment. Cambridge is at the epicentre of this dynamic industry and the current severe shortage of specialist space highlights the opportunity we see in the sector. We are looking forward to working with our partner, Mission Street, and the broader Cambridge business and governmental community to bring this exciting project to fruition."
The 'Golden Triangle' of Oxford, Cambridge, and London - a region where UK life sciences has a critical mass - is responsible for seven percent of England's economic output. Research from Bidwells recently revealed that despite a growing demand for more than two million square feet of space from companies of all sizes, there are no available laboratories left to let in the life sciences cluster of Cambridge. Life Science-focused real estate development has struggled to keep pace with record-breaking fundraising levels among biotech companies - who raised £4.5 billion last year – and current supply constraints in this specialized space market has become a critical consideration in the UK's pursuit of becoming a 'scientific superpower'.
About Mission Street
Mission Street was established in 2017 and is a specialist mixed-use investor, developer, and operator of real estate for the sciences and innovation sector.
Since inception, the company has managed over 1,000,000 sq ft of UK commercial property with major institutional investors and family offices, involving development and value add asset management
The company is a proven innovator and market leader in the Innovation Real Estate sector, delivering successful and complex projects including both new build R&D buildings and creative conversions of industrial and retail buildings.
For more information, visit www.mission-property.com
About BentallGreenOak
BentallGreenOak is a leading, global real estate investment management advisor and a globally-recognized provider of real estate services. BentallGreenOak serves the interests of more than 750 institutional clients with approximately $80 billion USD of assets under management (as of June 30, 2022) and expertise in the asset management of office, industrial, multi-residential, retail and hospitality property across the globe. BentallGreenOak has offices in 28 cities across thirteen countries with deep, local knowledge, experience, and extensive networks in the regions where we invest in and manage real estate assets on behalf of our clients in primary, secondary and co-investment markets. BentallGreenOak is a part of SLC Management, which is the alternatives asset management business of Sun Life.
The assets under management shown above includes real estate equity and mortgage investments managed by the BentallGreenOak group of companies and their affiliates, and as of 1Q21, includes certain uncalled capital commitments for discretionary capital until they are legally expired and excludes certain uncalled capital commitments where the investor has complete discretion over investment.
For more information, please visit www.bentallgreenoak.com
Media Contacts
Billy Moran
Account Director, Blackstock Consulting
billy@blackstock.co.uk
Artem Korolev,
CEO, Mission Street
artem@mission-property.com
Rahim Ladha
Global Head of Communications, BentallGreenOak
media@bentallgreenoak.com