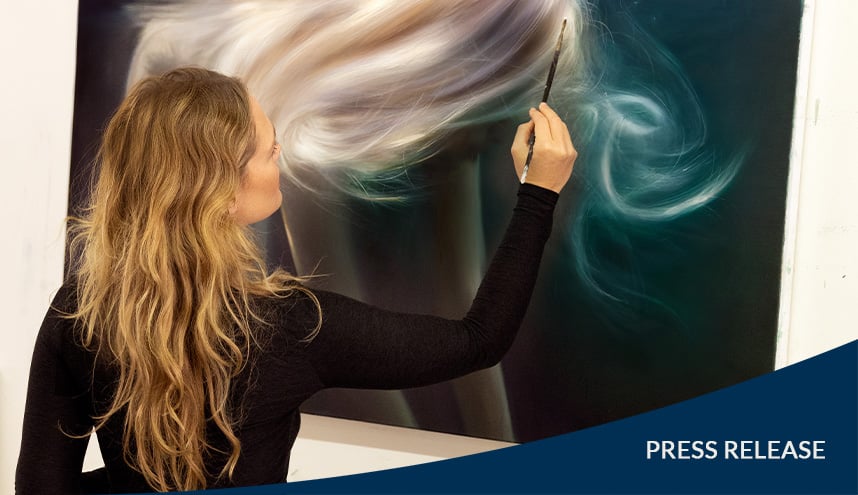 The event marks the beginning of a series of cultural experiences curated by BentallGreenOak at 685 Third Avenue
New York (April 05, 2023) — BentallGreenOak (BGO), a leading global real estate investment management advisor and provider of real estate services, is excited to announce the launch of its new cultural program at 685 Third Avenue, a class A office building in midtown Manhattan. The program aims to amenitize the building and create memorable experiences that foster community and connection among tenants. To kick off the series, BGO will host its inaugural event on Thursday, April 13th, from 6:00 – 9:00 p.m. in the recently renovated lobby. The event will feature the talented artist, Reisha Perlmutter, who will showcase her latest artwork created specifically for 685 Third Avenue.
Reisha Perlmutter is best known for her representational imagery of women in water, where she expands conventional beauty norms and explores the unencumbered relationship between body and nature. A short documentary film of Perlmutter's work and the stories behind the women she paints will also be screened, providing an immersive and interactive experience for attendees. BGO's focus on social connection to diverse communities is the inspiration behind this activation, produced by DK Johnston.
"We are thrilled to launch our cultural program at 685 Third Avenue and provide a platform for emerging artists to showcase their work while engaging with BGO's tenant community," said Rob Naso, Managing Partner, Head of U.S. Asset Management. "BGO is thinking more holistically about tenant engagement and the types of proactive programming that redefine the work from office experience. We've curated a program that creates extraordinary moments for connection between artists and our tenants in ways that have not been traditionally accessible or associated with the office environment."
The launch of the cultural program at 685 Third Avenue marks the beginning of a series of events that BGO will host throughout the year. BGO has dedicated an entire floor of studio space where artists will take up residency in the building and operate from there to create the pieces that will then go on display in the building's lobby. The program transforms 685 Third Avenue's recently redesigned lobby into an inclusive space that sets the stage for inspired conversations and exploration for tenants, guests, and patrons.
For RSVP, more information, or to reserve works please email DKJ@ArtsFund.com.
About BentallGreenOak
BentallGreenOak is a leading, global real estate investment management advisor and a globally-recognized provider of real estate services. BentallGreenOak serves the interests of more than 750 institutional clients with approximately $83 billion USD of assets under management (as of December 31, 2022) and expertise in the asset management of office, industrial, multi-residential, retail and hospitality property across the globe. BentallGreenOak has offices in 28 cities across fourteen countries with deep, local knowledge, experience, and extensive networks in the regions where we invest in and manage real estate assets on behalf of our clients in primary, secondary and co-investment markets. BentallGreenOak is a part of SLC Management, which is the alternatives asset management business of Sun Life.
The assets under management shown above includes real estate equity and mortgage investments managed by the BentallGreenOak group of companies and their affiliates, and as of 1Q21, includes certain uncalled capital commitments for discretionary capital until they are legally expired and excludes certain uncalled capital commitments where the investor has complete discretion over investment.
For more information, please visit www.bentallgreenoak.com
Media Contacts
Rahim Ladha
Global Head of Communications, BentallGreenOak
media@bentallgreenoak.com